CHICAGO FINANCE EXCHANGE (the top 200 Chicago women in finance by-invitation-only organization):
CFE QUARTERLY CORPORATE BOARD CHAT: BOARD PANEL & Director-Led Table Discussions
December 6, 2022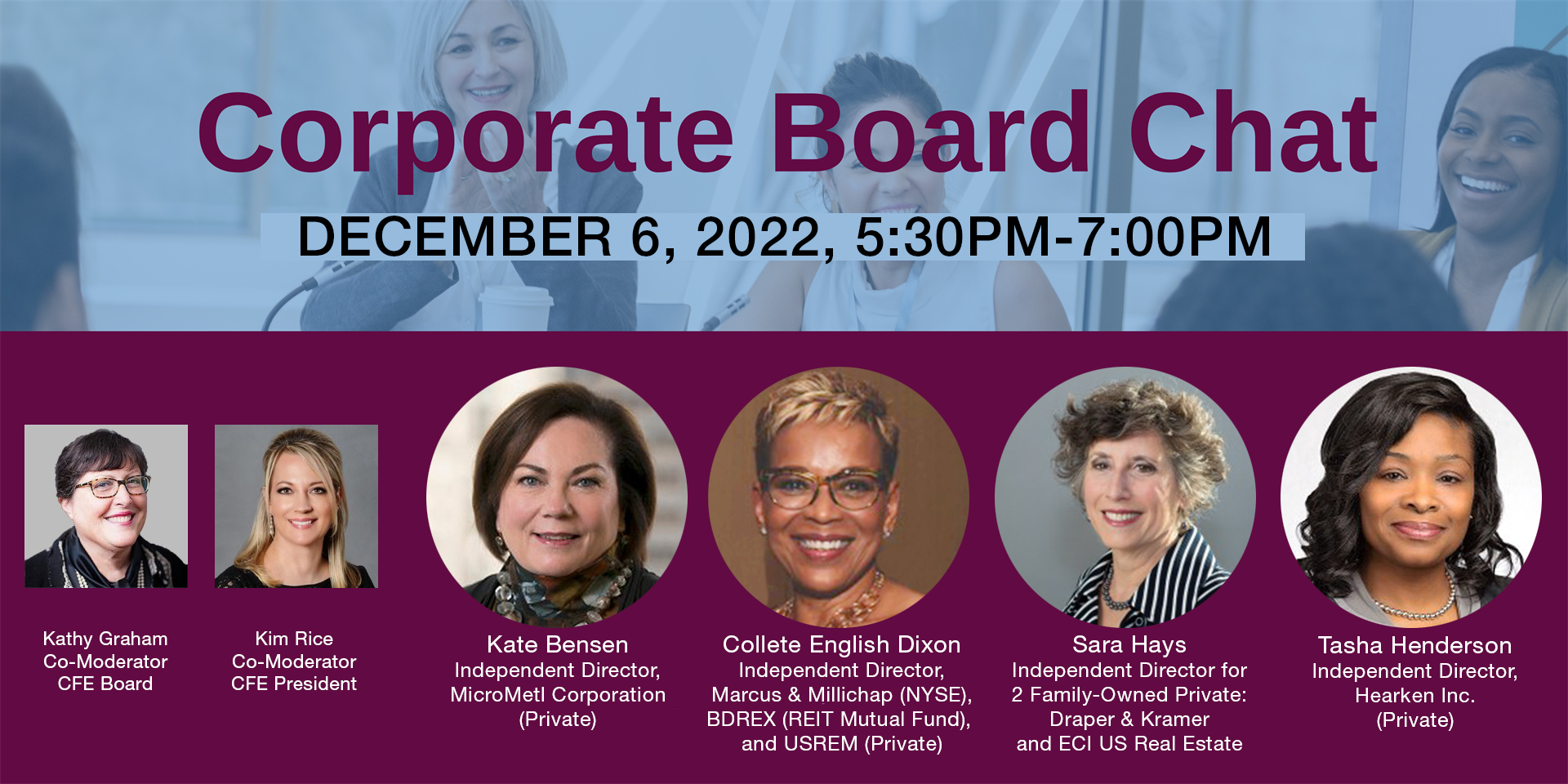 TOPIC: CORPORATE BOARD ONBOARDING AND CONTINUAL LEARNING
Created, produced, and co-moderated by CFE member Kathy Graham. Location: Willis Towers Watson, 233 South Wacker Drive, Chicago

• What are best practices for effective corporate board onboarding…and why are these practices so effective?
• What are other ways new board members can gain onboarding advantages if onboarding isn't offered?
• What are the goals of corporate board onboarding? Do they differ—and how—by industry, longevity of existing board, etc.?
• With the amount of change seeming to always be occurring anymore, what are ways a board director can stay current?
• What are the most important subjects that board directors should educate themselves about now…and why?

CORPORATE BOARD DIRECTOR SPEAKERS: Note that all speakers are Independent Board Directors for their corporate boards.
KATE BENSEN
Director, MICROMETL CORPORATION (family-owned manufacturer). Corporate: past President & CEO, The Chicago Network and Partner, Schiff Hardin LLP. Kate is also an avid and dedicated supporter of education, music, and civic growth organizations: currently serving as a Board Director for The Admiral at the Lake; Trustee for New Music USA; Member of the Graham Council for The University of Chicago Graham School; Advisory Board Member for Chicago Innovation; and Board Director for The Chicago Club and The Arts Club of Chicago.

COLLETE ENGLISH DIXON
Director & Nominating Committee for: MARCUS & MILLICHAP (NYSE); BDRX (REIT mutual fund); USREM (privately held corporation); Advisory Board for WATERTON ASSOCIATES, LLC. Corporate: Executive Director for Roosevelt University's Marshall Bennett Institute of Real Estate and former Executive Director for PGIM Real Estate, one of the largest real estate managers globally and the $1.5T global asset management business unit of Prudential Financial (NYSE). Nonprofit: Board Director, Community Investment Corporation Chicago, Harold E. Eisenberg Foundation, and many more.

SARA HAYS
Board Director for: DRAPER & KRAMER (private real estate), ECI US REAL ESTATE HOLDINGS (family-owned real estate); & LAS AGUILAS ENTERPRISES (family-owned investments). Boards: Board Chair, ECI US Real Estate Holdings (family-owned real estate); Director & Nom/Gov Chair, Draper & Kramer (private real estate); Incoming Director, Las Aguilas Enterprises (family-owned investments); Former Director, Apogee Enterprises (NASDAQ:APOG)(manufacturing). Corporate: COO/GC for Wrightwood Capital (acquired by Ares); SVP/GC for Hyatt Hotels; Co-Leader of North American Board Practice, Allegis Partners.

TASHA HENDERSON
Director for HEARKEN INC. (privately-held high tech audience engagement platform). Corporate: CFO, COO, and Corporate Secretary for JLC Infrastructure, an affiliate and majority joint venture of Magic Johnson Enterprises & Loop Capital; former CFO, CAO & Corporate Secretary, Loop Capital Markets, LLC. Nonprofit: Chair, Executive Committee Member, and Trustee for St. Xavier University, founded in 1846 as First Mercy institution of higher learning in the world and CFE Co-Chair, Membership Committee.

CO-MODERATOR: Kathy Graham
CFE Board Director. CEO & Founder, The HQ Companies, Inc.

CO-MODERATOR: Kim Rice
CFE President and Board Director. Partner, R&M Consulting, LLC.